New Dynamics in Foreign Trade | New Digital Future
China Cross-Border E-Commerce Fair(Autumn) 2023
China Cross-Border E-Commerce Fair(Autumn)
Time: 2023.8.18-20
Address:Guangzhou Guangzhou Convention and Exhibition Center, Area A
No.380 Yuejiangzhong Road, Haizhu District, Guangzhou, China
Panex WD International Group Booth No.
4.2J43-44
4.2K05-06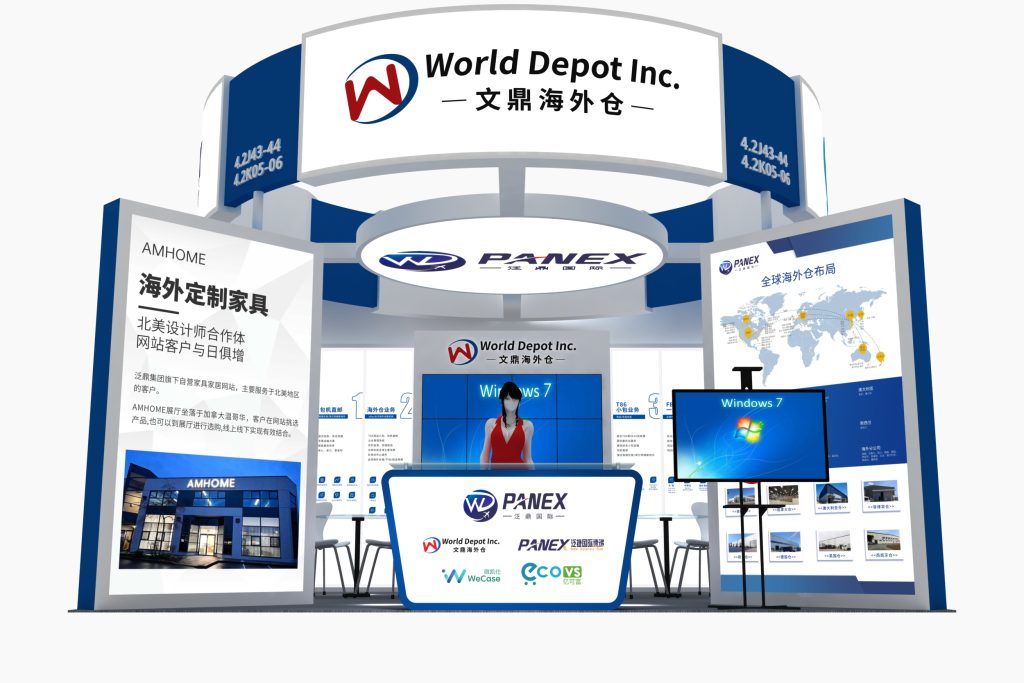 Exhibition Introduction
China Cross-border E-commerce Fair 2023 (Autumn) (hereinafter referred to as "China Cross-border Fair") will be held once again on August 18-20, 2023 at the Canton Fair Complex.
It is a cross-border e-commerce trade fair for linking China's manufacturing and global consumption, integrating the rapidly developing cross-border e-commerce ecological resources, realizing the integration of resources from foreign trade, cross-border e-commerce and exhibition sectors, serving the global trade, and helping enterprises to open up a broader market.
The scale of the exhibition is about 50,000 square meters, with three exhibition zones, including cross-border e-commerce pilot zones and industrial parks, cross-border e-commerce integrated service zone and supplier zone, and is expected to attract about 80,000 professional buyers to the conference.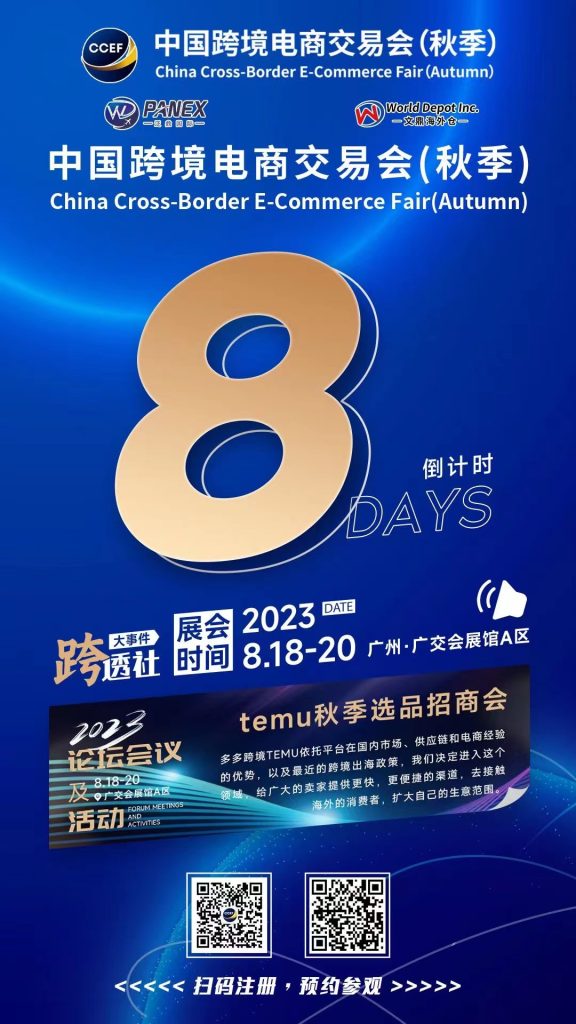 Exhibition Advantages
Since its inception, China International Fair (Autumn) has had a wide impact on the industry, and has become an important platform for showcasing "Made in China" new products and leading cross-border product selection and preparation.
After two years of precipitation, the exhibition's industrial zone display has been further polished, expanded and upgraded, including Xining clean energy, Ningde mechanical and electrical, Dongguan electronics and other emerging categories that have just set off a boom overseas, as well as Shaoxing textile, Yiwu small commodities, Jinjiang footwear, Dehua ceramics and other traditional key categories of the industry.
We will give full play to the advantages of resources and platforms, continue to take trading effectiveness as an important goal of the exhibition, comprehensively enhance the professionalism of categories, adjust and optimize the composition of exhibits, and select more products adapted to the international market.
Cross-border e-commerce national brands and platforms
National team of foreign trade exhibition organizers
Leading area in the industry exhibition
Over 2,000 suppliers, 60+ advantageous industrial zones in China
Industry access trade fair recognized by all from the official to the industry
Compared with the previous exhibitions, the supporting activities of this exhibition are richer and more diversified, and the information content is more high-quality. The exhibition has set up two forum areas, consisting of more than 50 theme forums and special forums, covering topics such as AIGC, big data of overseas consumer market, incremental volume of overseas, financial and tax structure, etc. The exhibitors cover supply chain, platform, warehouse, and other industries.
The exhibitors cover the whole ecological chain of cross-border e-commerce such as supply chain, platform, warehousing, logistics, taxation, payment, marketing, software, operation and talents.
Guangzhou, Yinchuan, Xining, Changzhou, Shaoguan and other cross-border e-commerce pilot zones have been confirmed exhibitors, Zhejiang, Jiangsu, Guangdong, Hebei, Yunnan, Shaanxi and other more than 20 provinces and municipalities cross-border e-commerce associations will participate in the group, and strive to build China's cross-border fair into a professional cross-border e-commerce event with a full range of exhibits, diverse functions and wide radiation.
The exhibition will also hold a series of promotional meetings for service providers and blue ocean platforms to provide strong support for the development of cross-border e-commerce enterprises and boost cross-border e-commerce enterprises into the fast lane of development.
Theme Events
Pet Product Manufacturers – Involvement and Opportunities in Overseas Marketing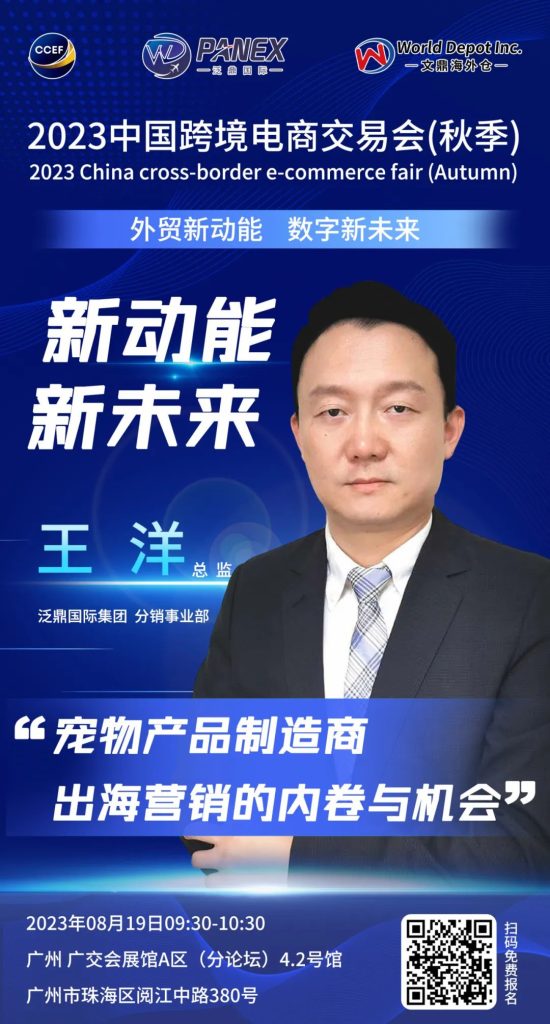 Event Time: August 19, 2023 9:30am-10:30am
Venue: Hall 4.2, Area A (Sub-Forum), Canton Fair Complex
No.380 Yuejiangzhong Road, Haizhu District, Guangzhou, China
Sweep the code to register for the show for free~